Edison Interest Rate Update
Attention all Edison Employees:
The IRS has announced the new Segment Interest Rates which are used to calculate the Grandfathered Lump-Sum (GFLS) and Cash Balance Pensions. If you are a Grandfathered Pension Participant and are considering a retirement date between now and the first quarter of 2018, we can help you maximize your benefits. You must request a Benefit Commencement Date (BCD) no later than December 1, 2017. Edison must receive this request by October 31, 2017. Please call us immediately so we can help you through the process.
Cash Balance Participants have more flexibility in determining the optimal time to retire as their accounts always increase in value. Please call us to schedule a time to review your retirement options.
Below is a copy of our most recent Edison Interest Rate Announcement.
2018 Edison Interest Rate Announcement
The Final 2018 Edison Rates have been announced by the IRS and they are higher than last year. Chart 1 below shows how the rates have been fluctuating over the past 12 months as they peaked in December 2016 after the presidential elections and then dropped slightly in 2017. We anticipate this upward trend to continue as the Federal Reserve Board "Fed" has embarked on a long cycle of interest rate increases and balance sheet normalization.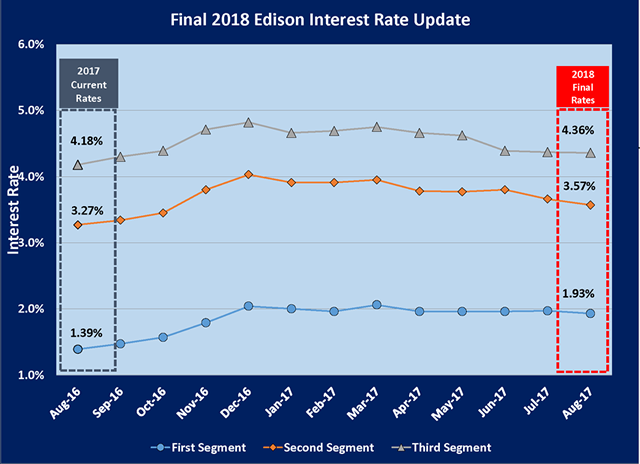 Chart 1
Grandfathered Lump-Sum $30K (3%) Lower in 2018
By our estimate, these rate increases will result in Grandfathered Lump-Sums dropping nearly 3.0% in value for 2018(1). For example, Chart 2 below shows how the value of a $1 million Grandfathered Lump-Sum has changed since August 2016. With the new rates applied to the calculation, the 2018 value would be $30,000 or 3% lower. Therefore, a "grandfathered" employee's lump-sum payout would be about 3% lower in 2018 than if they retire and take the lump-sum in 2017.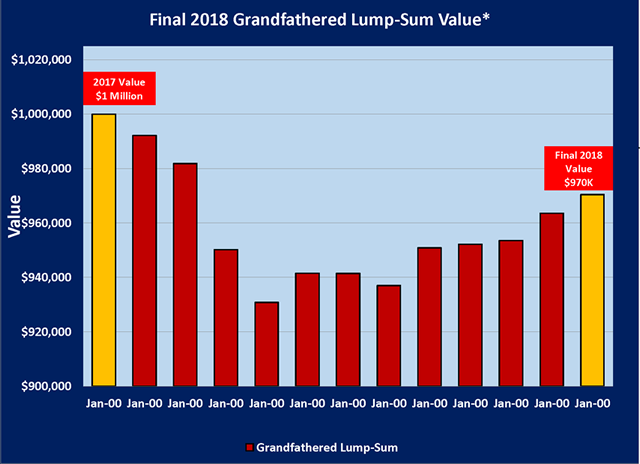 Chart 2
Please reach out to our office to run a complementary retirement projection. We will integrate the monthly pension versus lump-sum options into your personalized projection.
September to October – Request your retirement projection from Manchester Financial to determine the optimal retirement date based on your specific needs
October 31st – If you decide to retire to take advantage of the better 2017 rates, request the retirement paperwork from EIX and we will help navigate you through the paperwork!
Cash Balance Participants
In contrast, Cash Balance Plans benefit from rising interest rates and always increase in value which is different than Grandfathered Lump-Sums. These plans increase by the 3rd Segment Rate and never go down in value. For example, if you had a $100,000 Cash Balance plan at the start of 2017, Edison has been paying you interest rate credits at 4.18% or $4,180 during 2017 on the balance (2). In 2018, Edison will pay you 4.36% or $4,360.
In addition to the interest rate credits, Edison is providing you pay credits ranging from 3% to 9% of your base pay, depending on your age plus service "points" you have earned (see below). These pay credits are applied each month that you have at least one hour of service.

Your 401(k) Investments
Rising interest rates are impacting everyone's retirement plans. Grandfathered Lump-Sums will likely be lower, Cash Balances will likely grow faster, however, all 401(k) plans need to be invested differently. The current investment options available in your Edison's 401(k) plan are very limited and may have a difficult time with rising interest rates and new stock market opportunities. However, Edison offers you the Tier III Personal Choice Retirement Account (PCRA). PCRA's allow professional money managers like Manchester Financial to strategically invest your 401(k) to protect and grow your portfolio. We have helped hundreds of Edison employees and retirees for over 25 years! Please call to schedule a portfolio review or retirement projection with our Edison team.
Manchester Financial is focused on protecting and improving the lives of our clients by providing you with savvy financial planning and astute portfolio management.
Please contact us today for a free consultation!

__________
Manchester Financial is neither affiliated with Edison International nor is this information sponsored by Edison International. Proudly independent to serve you better for over 25 years!
(1) Grandfathered Lump-Sums were estimated using 23 years in retirement with a $62k annual benefit. The first 5 years were discounted with the Segment 1 rate, the next 15 years with the Segment 2 rate, and the remaining 3 years with the Segment 3 rate.
(2) Cash Balance Lump-Sums are credited monthly with the Segment 3 rate. For demonstration purposes we credited the $100,000 on an annual basis. Your actual interest credit will be higher due the pay credit contributions Edison makes for you during the year and compound interest.